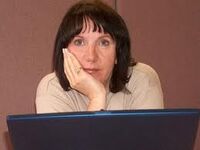 Karen Traviss is the author of every Republic Commando novel as well as Imperial Commando: 501st. Traviss is an English author who writes novels and sometimes works with comics. Other notable works she has done include writing part of the story for the Gears of War video game series, as well as the comic series.
Traviss is also notable for partially creating the Star Wars language of "Mando'a" and contributing greatly to it, adding multiple words and including them in her novels.
Shortly after the release of Imperial Commando: 501st, there were rumors of a second book. This book was confirmed to be written by Traviss and was set to be published in February 2012. However, during mid 2011, Traviss had decided to cancel the project, due to the intertwining information in the animated Clone Wars series aired on Cartoon Network.
Along with that, Traviss had stated on her website that she would not work on any more Star Wars works and asked her fans to not request her to work on Imperial Commando 2 as well.
Community content is available under
CC-BY-SA
unless otherwise noted.