Geonosians
are insect-like creatures who are the inhabitants of Geonosis. They fought along side the CIS against the Republic in the Battle of Geonosis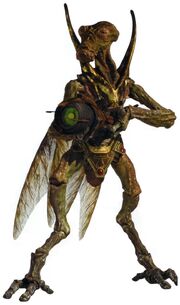 during the
Clone Wars
. Sev of
Delta Squad
loved to kill them and made a goal to kill as many of them compared to how many clones were killed on Geonosis.
The Geonosians only appear in the video game, Star Wars: Republic Commando. They are encountered early in the campaign, as it takes place on Geonosis. They can be quite difficult to kill, if the player's accuracy is bad, but can be killed if the player easily knifes them.
Geonosians drones are deadly in their own, spitting an arc of acid toward their enemy. They are also very agile, with an ability to jump out of the way to avoid enemy contact.
The Geonosian Elites are a different story, firing a consistent beam of plasma that is guarranteed to take out the shields of a commando with ease. If the player has to choose between them or a group of hostiles, it is best to take on the elite first. Other hostiles will keep their distance, but Elites rush and attempt to take the player out quickly. This manuverability is dangerous, in most situations. They are still vulnerable to sniping however, and even one commando on a sniping position will eliminate them with ease. Two sniper shots are required to take them down, provided both hit the head.
Geonosians have a habit of carrying off hostiles, they do not do this to the player however, but this is shown in the beginning, where one yanks a trooper off the gunship to his death, and another trooper is found dead next to the area where the sniping attachment on the DC-17 is found. Due to the fact the latter trooper is found underground, far away from the battlefield, it can be presumed the Geonosians pulled him underground and killed him, adding to the theory they carry off hostiles to deplete hostile platoons of troops.
The Geonosians appear in the final missions of the campaign, fighting alongside battle droids and trandoshans in a joint effort to destroy Delta Squad.
Geonosians have the most violent death animations in the game. Elites explode when too much damage is taken, gripping their stomach, regular troops can be decapitated, a trait shared with battle droids, and others can have their wings shot off and fall to their death.
Types of Enemies
Edit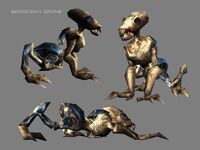 (To Be Added)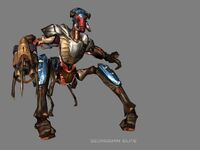 (To Be Added)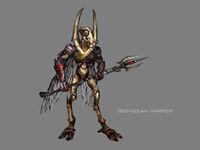 (To Be Added)
Appearances
Edit